"Tad and Dean's personal essay writing workshop proved invaluable. As all-consuming, exhausting, and often frustrating a responsibility as it is to mentor a potential Gates Scholar, there is an indescribable thrill in helping an underdog go through a life-changing process to become the leader of the pack, or, as the Gates Millennium Scholarship says, 'a leader of tomorrow.'"
Robert McClory is a Counselor at Ketchikan High School. He is mentor to  2015 Gates Scholarship Finalists Keenan Sanderson and Hana Oshima, and co-mentor (with Natasha O'Brien) for Class of 2014 Gates Millennium Scholarship Winner Martina May Brown.
Press Release: Three Alaska Students Receive Gates Scholarships
KRBD story: Ketchikan student wins full-ride Gates Scholarship
 2015 Reflection on Gates Scholarship Application Experience
My Gates experience is so much more than just writing a bunch of essays. It's a catalyst for change. It's everything riding on some essays that must resonate ever so clearly an image of an eligible, deserving candidate. If it were a small award, it would not be at risk of becoming an obsession. The fact that a complete application will entirely change an applicant's life makes it a stressor from the moment a potential and committed applicant appears on the radar until the website shows "THE APPLICATION PERIOD IS CLOSED".
I've been a Chicago Cubs fan all my life. If they win, it's a moment to savor. If they lose by one run, the words "what if" or "if only" repeat over and over. If they are going to lose, I want them to lose by 10 runs. Likewise, if a Gates candidate is going to pursue it, I want it to be a certain winner or have no chance. To think that a candidate with whom I had worked and become invested over five intense months may come in 1,001 when only 1,000 winners will receive the award just tears me apart.
It is very easy to bond with these potential Gates recipients. They are intriguing. Their stories are compelling once the most intimate of details revealing their stories are uncovered. By definition, they have faced hardships, overcome adversities and carry tremendous potential. They make it easy to want to cheer for them. Perhaps it's that Cub's fan in me that makes me so vulnerable to those who have faced adversities and still never give up hope.
Once a serious and potentially committed Gates applicant is identified and the requisite investigation into his or her life story is uncovered, a bond develops. The Gates Millennium Scholarship is for minority students living in poverty. By that definition, applications are often living in dysfunctional homes, or are homeless. Some have been abandoned, rejected, or even discarded. Many are 30 and 40-hour-a-week wage earners keeping their families fed.
Any teacher, counselor and mentor who gets to know these young people has a compulsion to come to their aid, to stick with them, to carry them across the finish line of the GMS applications. This is the same strong urge of wanting to help that their recommender and nominator also should feel throughout the writing of their critical essays in support of the applicant's scholarship development.
What is unique to the Gates scholarship is that it is much more than an essay or two or three – it is an unfolding process that builds up strength and determination in everyone involved in it – applicant, teacher, counselor, mentors, recommender, nominator and, hopefully, family supporters.
Gates applicants often come into the process feeling undeserving, unworthy or alone. That means they initially feel incapable of winning this life-changing opportunity to get up to 10 years of FREE college education. That means all adults involved in the process must, by necessity as well as because of their compassion, must become a driving force to see their candidate through to pressing the "submit" box at the bottom of the application.
Such intense bonding can wind up haunting teachers, counselors, mentors, recommenders and nominators until the winners are announced in mid-April. And my student, or your student, is chosen to receive a Gates Millennium Scholarship, that bond will last forever.
They say that a child sometimes faces more trauma from losing a pet than an uncle because the child was the pet's caretaker, where the bonding begins. In that same way, a teacher, counselor, nominator, recommender and mentor – one or all of them – feels as though he or she has become that special caretaker for a child who has faced tremendous adversity early in life, yet somehow has grown up with hope, faith and trust to mature into a leader eager to complete this most difficult of scholarships in spite of hardships. Feeling that responsibility will keep a Gates applicant's "caretaker(s)" from ever giving up.
That means the grownups committed to the process must be constant cheerleaders who are pulling, pushing, and encouraging their applicant ever onward. It's a long process but also an intriguing, addictive one. As soon as I pressed the last of my three Gates Nominator Submit buttons on January 14, I started reviewing the school rosters for next year's potential GMS candidates.
As all-consuming, exhausting, and often frustrating a responsibility as it is to mentor a potential Gates Scholar, there is an indescribable thrill in helping an underdog go through a life-changing process to become the leader of the pack, or, as the Gates Millennium Scholarship says, "a leader of tomorrow."
I will feel the same way this time next year, as I push more "submit" buttons for as-yet unidentified but deserving students who will try to write their way into a Gates Millennium Scholarships that will change their life, and mine, too.
Robert McClory's Award Presentation Speech to Gates Scholarship winner, Martina Brown
Many of you may remember years ago when Bill Gates chartered a cruise ship here. One evening my daughters and I stood below his balcony as local kids shouted for him to give money to those on the docks. Someone began throwing coins. My girls gathered some coins from the man with the Midas Touch. They taped them to their scrapbook hoping they'd blossom like planted seeds.
Years later, Martina Brown became the one who harvested some of that Gates Fortune. I saw her reworking essay after essay, insuring every deadline was met with carefully written stories of her life, dreams and ambitions. For months she nearly lived in Counseling Center, perched at computers making sure her work ethic was reflected in the many 1,000 word essays the Gates Milllennium Scholarship required —just as did nearly 53,000 other students who applied.
Martina had also applied early to many of the Direct Entry BSN programs in the Northwest without having the resources to even visit them. She was accepted to them all and decided upon the University of Portland. It is rated as one of the best small private schools in the Northwest at a cost of $54,000 annually. Her award letter indicated May needed more than $30,000 in loans or outside awards for each of the four years after their scholarships. May worked like someone who knew her life plan depended on this award, and was ready to stay in state without it.
Besides what's known as the "Million Dollar Scholarship", she applied for 60 others—each application carefully constructed, attractively packaged and reflective of someone who always does her best.
Martina has received lots of notice as one of only four Alaskans to get this award this year. In my 26 years here, she is the first here that I recall getting this award. The Gates will pay her full Cost of Attendance to any school she attends for up to 10 years.
May plans to earn her Bachelors of Science in Nursing, before pursuing graduate school. She hopes to take advantage of most if not all of the 10 years of free college as well as the leadership training the Bill and Melinda Gates Foundation provides Gates Scholars.
Having watched May drag some seniors into the counseling center to construct their own scholarships, I'd say she already has demonstrated the kind of leadership they hope to nurture.  Some of her peers owe her a thanks for her part in the awards that they are receiving tonight.
Several of you have contributed to this award as proofreaders, recommenders, supporters or influences she cited in her application. You all have a stake in this life-changing award and her future.
Please join me now in congratulating Martina May Brown, whose hard work and tenacity helped earned an award that is sure to change the course of her life forever.
Teacher/Mentor Experience with the 2014 Gates Millennium Scholarship Applicant
As the school counselor, my duties are as varied as the geography of Alaska. We spend countless hours testing, running workshops, scheduling, advising, conducting meetings, phoning and the list goes on. We work with failing students to help them find success, and work with successful students to find opportunities those successes may unlock for them.
Many of those opportunities are in the guise of scholarships. Tad Bartimus and Dean Wariner, Talk Story, Write Story workshop mentors, highlighted to me how the Gates Millennium Scholarship is the Mother of ALL Scholarships for that rare individual for whom all the stars align. Each year I can count on one hand all our students who meet all the minimum criteria. This year we were more aggressive in identifying those students and persistent in insuring they apply for this award.
Learning that a GMS covers 10 years of cost-free higher education prompted me to push well past the outward time commitment. After all, this is a million-dollar scholarship. Looking at it that way, it seemed almost sinful to abandon this effort as too time-consuming.
I actually feel like I have a clock ticking in my head from the moment I arrive at school each day. Like the clock Captain Hook in Peter Pan can hear in the crocodile, it never stops ticking. When I would hear the tick-tock I would remind myself the reward on an hourly basis justifies any and all time spent helping students pursue and obtain the GMS, although I was always aware of that crocodile  nipping at my heels.
We had three students who set out to apply for the Gates.
One student planned to aggressively pursue it, but ended up in the hospital during the application window and did not submit. Another student completed the first half of the application but waited until deadline day to begin writing the essays necessary to complete the second half. I suspect I spent more time writing her nomination essay than she did on the application.
Senior Martina May Brown went through a totally different process, spending months thinking about, planning and executing the Gates scholarship application. I spent much time in an interview with her to get background information that spanned a lifetime. We explored her timeline, mapped out strategy and reviewed academic and leadership records. I inquired into her motives, goals, attitudes and perspectives. I also interviewed her teachers to get their views.
I found that when you tell teachers or others about the prize associated with this scholarship they are willing to help provide insights and recollections that may be meaningful. The more time invested, the more I felt committed to articulating her merits as effectively as possible.
Tad and Dean's Talk Story, Write Story four-day personal essay writing workshop that I attended in April of 2013 to help me learn how to write many of the eight personal essays required on the Gates application proved invaluable. I have been writing letters of recommendation for decades and have always felt comfortable crafting them. Tad and Dean helped me realize that my recommendations are effective not just because of technical or mechanical qualities, but because my recommendations characterize my students as I see them. They incorporate anecdotes and stories about my students.
After the Talk Story, Write Story workshop I was much more cognizant of the need to not only do this in my own letters, but to encourage students to consider their own storyline. I approached the personal essay writing as more of a narrative and encouraged Martina May, our strongest and most committed applicant, to do so as well. I love the concept of making an "essay" a narrative story with the applicant as the hero or heroine. Students embrace this and feel much more comfortable with personal revelations when they think of it as a "story".
I was actually very excited to share in this process. The close work with the very committed applicant forged a bond, and we are both eagerly awaiting announcement of the finalists for the Gates. It is so easy to get caught up in the excitement of this award. I cannnot wait to hear, but I also am completely comfortable with the time I invested even if Martina May does not win, because she learned so much about herself in the process.
Furthermore, Tad and Dean's scholarship class helped me become more aware of the importance of approaching these assignments as stories that draw in readers while they enlighten the writers. Not only will I be more aware of how I approach applications like this, but this student will never write the same way again because she has a deeper sense of the elements of good writing. Her improved style will help open many more doors in the future, whether she gets the Gates or not. She also is approaching other scholarship opportunities with more awareness and confidence with her improved writing style.
During those times that either of us was uncertain, Tad and Dean gave us the encouragement to move ahead. They are a one-stop shop. They helped with every detail. They are amazing resources. No detail is too small. Being a detail-oriented professional, I have tremendous respect and regard for them and their contribution. They were available at any time, day or night, on the phone, online or via Skype, and matched their availability to mine and Martina May's. Toward the end of the Gates process at midnight EST, Jan. 15, we were working late into the evening and very early in the morning, as well as throughout the school day to make everything "perfect."
Martina May filed her application just three hours before the deadline, to cheers all around.
Both applicants learned and are still finding some lessons without me trying to teach them:
Be aware of the kinds of grades, coursework and experiences that lead to success.
Build a resume highlighting not only accomplishments, but also areas of potential growth.
Reach beyond your comfort zone in pursuing leadership and learning opportunities.
Identify early any sources to reveal scholarship opportunities.
 Start your applications early in your senior year, or even late in your junior year.
Avoid procrastination in starting them.
Avoid the temptations to spend Christmas and spring breaks of your senior year relaxing in Hawaii or Disneyland. Do ALL those trips after high school graduation.
Pursue all applications with a firm and optimistic belief that with a good effort, you can get this. Some scholarships go unclaimed due to no complete, timely applications.
Seek the attention of recommenders and insure they know your history, your goals, your challenges by providing resumes or avenues to allow them to get to know you.
Make sure nominators and recommenders have ample time to respond with their best efforts.
Assume that the harder you work throughout high school, the more support you will earn and warrant.
Write thank you notes to scholarship providers, teachers and mentors.
Consider sending all who helped you college graduation invitations or announcements when done.
Remember that scholarship providers become advocates for your education paths because they have a personal investment in your journey. They appreciate knowing that they can share in your successes they supported. This reinforces their commitment to help future deserving candidates who want to follow in your footsteps because you were a role model.
Finally, scholarship committees want to reward deserving, hard-working youths who have defined goals and realistic chances of success. Try to be that person. Like the saying goes, you can't make a silk purse out of a sow's ear. Make sure you have a story with at least a few silk threads available with which to weave your story.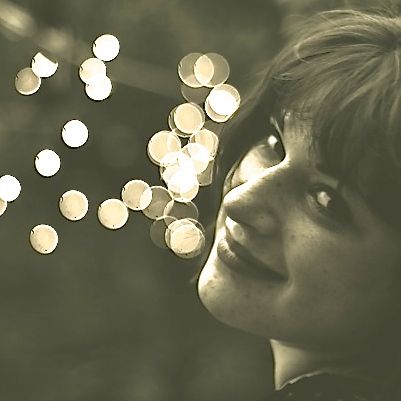 This year Robert McClory was also a mentor to Ketchikan High School Senior Abigail Sweetman, the recipient of a 2014 June Nelson Memorial Scholarship from the Association of Alaska School Boards. Read more here.